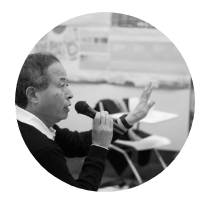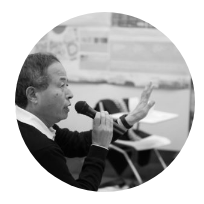 Masami Kobayashi is Professor of Department of Architecture at Meiji University. He is also Principal of Archi-Media Architects & Associates. He is a teaching scholar and an active architect/urban designer, who pursues the new strategy for preserving our natural/built environment and promoting new development for our promising future.
While working for Kenzo Tange Associates from 1979 to 1985, Kobayashi took charge of various design projects including OUB center, GB building, Telecommunication building, Nanyang Technological University in Singapore, ABUJA-a new capital of Nigeria, Tohin High School in Yokohama, Japan and many other projects in Malaysia, Jordan, France and USA. After establishing his own design firm in Tokyo, he has been working on many projects, which include private residences, multi-family housings, offices, commercial facilities, and public institutions in Japan, China, and USA for more than 20 years. (archimedia.co.jp)
Kobayashi is also known as the first architect/urban designer in Japan who introduced the "Charrette Workshop (intensive design workshop involving citizens and professionals)" to Japanese local communities. Since 1993, he has been supporting the community development for Takahashi City in Okayama prefecture while visiting there with his seminar students every summer. He has been also supporting, as an official design advisor, the redevelopment project of Himeji City in Hyogo prefecture.
Kobayashi received a Ph.D. of Engineering in Architecture from University of Tokyo in Japan, a Master of Design Studies at the Graduate School of Design, Harvard University in USA, and a Master and Bachelor of Engineering in Architecture from the University of Tokyo in Japan. He is a registered architect (1st Class, Japan), a member of the City Planning Institute, the Architectural Institute of Japan, and the Japan Architects Institute.
He was awarded "2007 Award of Architectural Institute of Japan ", as a group, for the "Preservation & Restoration of International House of Japan" project, and he was also awarded "Highest Prize of the Design Award of "Japan Society of Civil Engineering", for the Kakamigahara Park project as a group in 2008.